Allendale First Christian Church invites you to COME ONE, COME ALL!! Mark your calendars for Vacation Bible School on July 10-13. More information on the attached flyer. Flyers will go home today.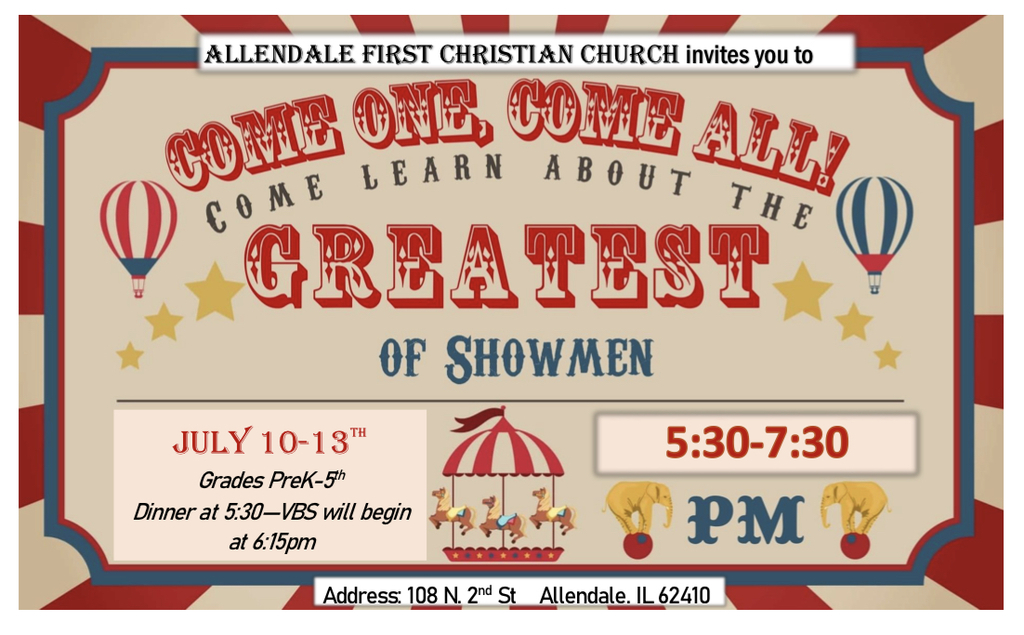 Mt. Carmel Jr. Golf Clinic 2022 will be held May 31, June 1, 2 from 8:00 - 9:30 am. Clinic Fee is $40. For more information, please contact 618-262-5771. Forms will go home with students this week.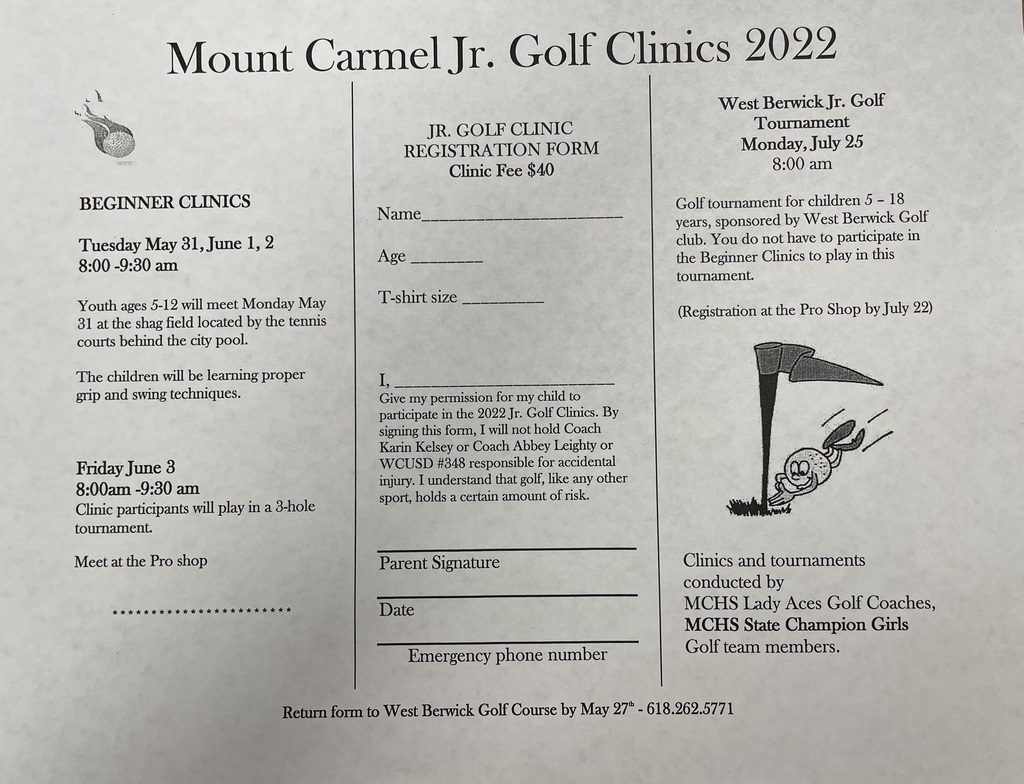 Mt. Carmel Pickleball Club will be hosting a Summer Camp for ages 8-14 on June 13, 14, and 15 from 9:00 - 11:30 am at the City Park Pickleball Courts. The fee is $20. More information is on the attached registration form. Forms will also be going home with 3rd through 8th graders.
8th Grade Promotion Information: The Allendale School 8th Grade Promotion Ceremony held on Monday, May 23 at 7:00 PM at the Allendale School circle bus drive, weather permitting. Please bring your lawn chairs. If raining, the ceremony will be in the gymnasium. The First National Bank of Allendale will graciously be donating a 5x7 individual and a 5x7 class picture to each 8th grade student. To purchase additional pictures through Aly Mae Images, please use the below picture link:
https://docs.google.com/forms/d/e/1FAIpQLScBmsRk9v7KfHr9oBgWuXWPzPbiee5QvPHe_wmwzOHyPXmaHQ/viewform?usp=sf_link
Each graduate will receive a free graduation DVD free of charge from Allendale School. An order form for additional DVDs ($10.00 each) will be going home with students.
Golden Aces Football Camps will be held in July. Please see the flyer attached for more information. Send completed forms and payment to Michael Brewer at Mt. Carmel High School. Forms will go home this week. If you have questions, please call 618-262-5104.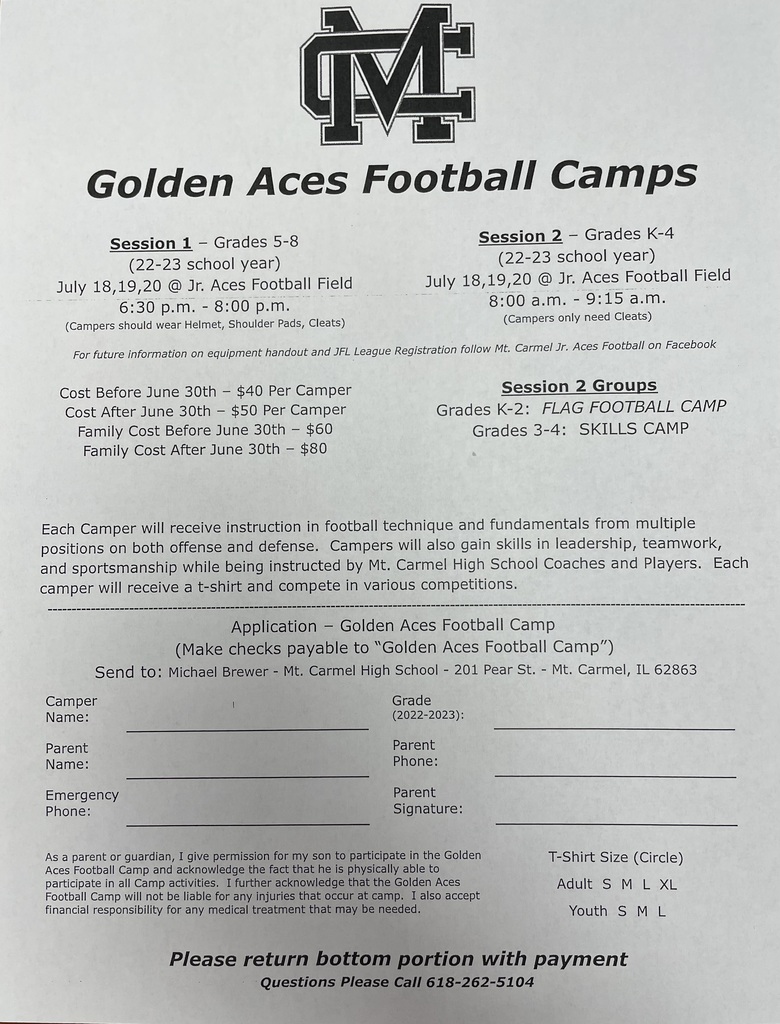 The MCHS Cheer Clinic will held June 6-9, 2022 for those entering grades PK through 6th in the Fall. Pre-Registration cost is $45.00 BEFORE Friday, May 20, 2022. Sibling discount $30.00 is available for each additional sibling. Registration AFTER May 20, 2022 is $55.00 and $30.00 for each additional sibling. You must pre-register by may 20th to guarantee a t-shirt. Contact MCHS Cheer Coach, Amy Blake at 618-262-7161. Forms will go home today. Please turn forms into MCHS.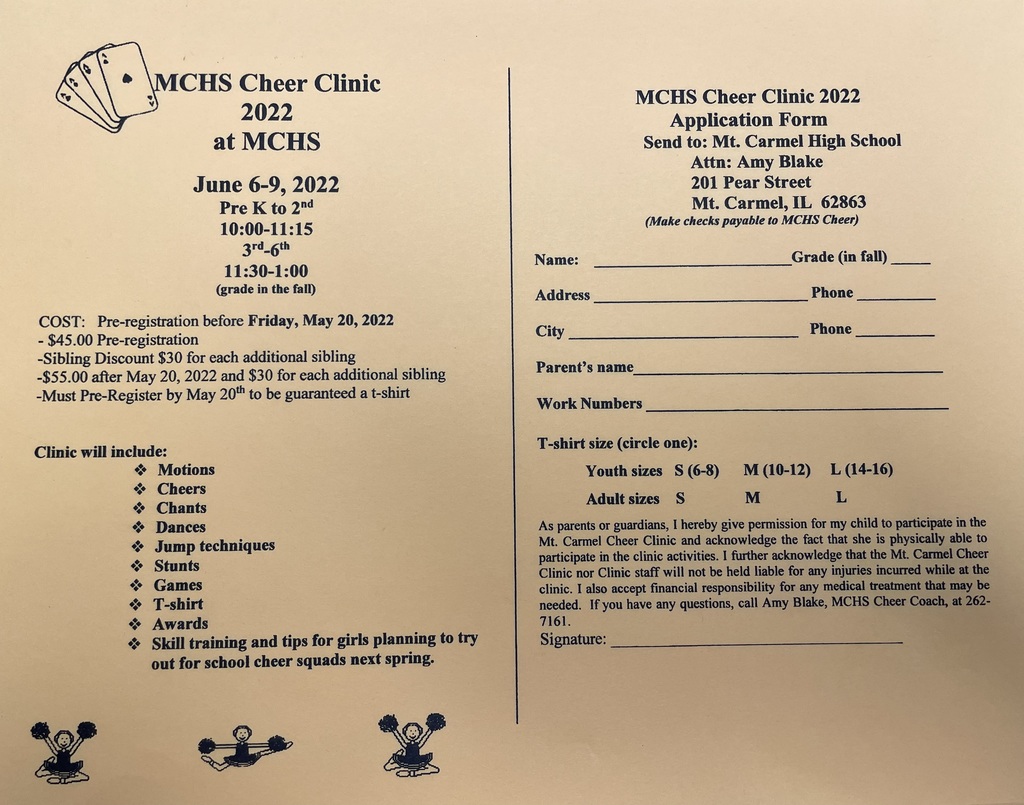 2022 Lunch Wagon Schedules! Flyers will also go home with students today.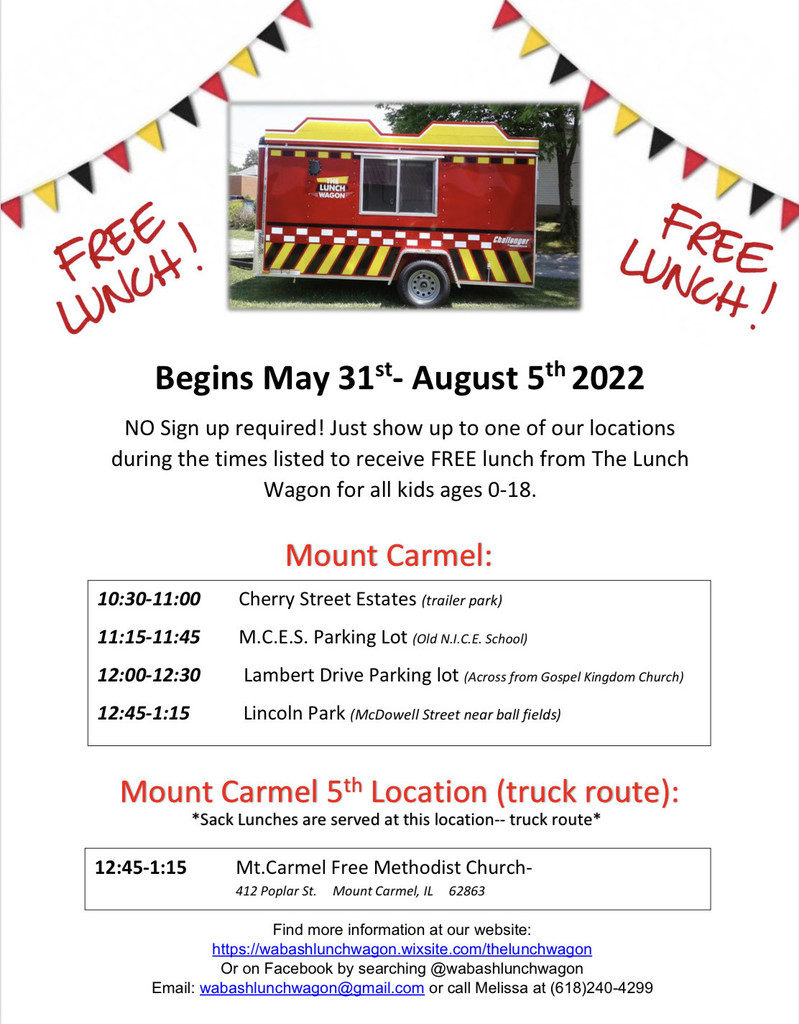 6th Grade Parents: Class of 2028 Shirts orders are due Tuesday, May 10. Please turn forms and payment into the school office. Forms will go home today with students.
Upcoming Lunch Menu Changes for the Following Days: Friday, May 6: Pepperoni Sub Alt. Cheesy Veggies/Dip Chips Fruit Milk Friday, May 13: Bosco Sticks Alt. Ham & Cheese Sandwich Side Salad Fruit Milk
Illinois Junior Chefs cooking classes will be offered to Allendale Students in 2nd through 8th grades at the Allendale Ruritan Building. The flyer includes a separate registration link for each week the class will be offered. There is a limit of 12 participants per week with an option to be added to a wait list when the registration is full and a deadline to register of May 31. Please contact Carol at
cjeanvm@illinois.edu
for more information.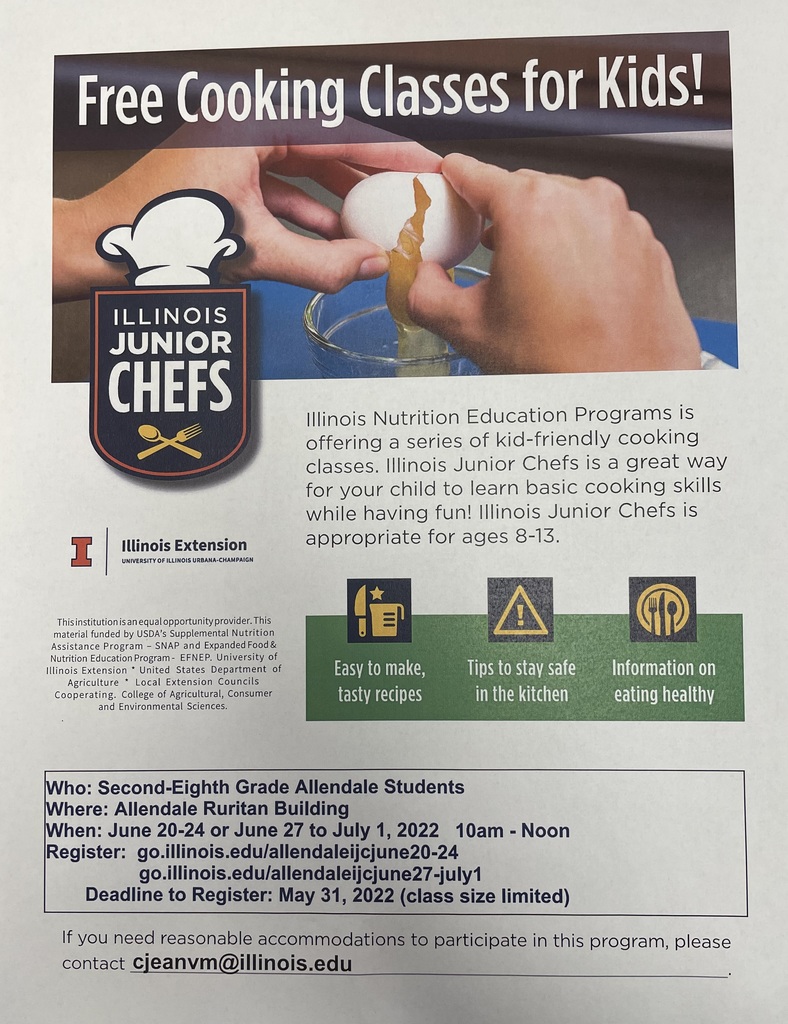 8th Grade Promotion on Monday, May 23 at 7:00 pm Teacher Institute on Tuesday, May 24 Awards Day on Wednesday, May 25 Last School Day on Wednesday, May 25.

The track meet to be held by SMS/Allendale at MCHS today has been canceled due to weather conditions. The SMS/Allendale track team will have practice after school at St. Mary's today.

The deadline to order Spring Pictures is Monday, March 21st. After this date, the price changes and you will have to pay for direct shipping. If you haven't received a text or email of the proofs and/or password, please call or email at the following: 618-263-2726 or
alymaeimages@gmail.com
.

Parent-Teacher Conferences are March 22 and March 23 from 3:30-6:00 pm. Information has been sent to parent email, or will be sent shortly, concerning information about your child and scheduling a conference. Please check your email. Spring Break will be March 25-April 3. Have a great evening!
Third Quarter Grade Cards go home today! Parents/Guardians - please sign the grade card and have your child return it to their homeroom teacher.

For the volleyball game at West Salem tonight, the C-game has been canceled. The B-game will begin at 5:00 pm, with the A-game to begin immediately afterward. The bus will leave St. Mary's at 3:45 pm and Allendale at 4:00 pm.

Just a reminder tomorrow, February 18, is an Early Dismissal at 12:15 pm. There will not be PreK. Also, there is no school on Monday, February 21 for Presidents' Day.

On Saturday, February 5th, Yellow Jackets Basketball traveled to Pinckneyville for the SIJHSAA Class S first game at State to play Meridian.  The Yellow Jackets got off to a slow start and found themselves down 8-0 before rebounding behind Elliott Acree to trail Meridian 16-9.  Elliott had six points in the quarter and Brendan Bowser had an old-fashioned three point play for three points.  In the second quarter, the Yellow Jackets nearly doubled up Meridian and only found themselves down 22-20.  Elliott Acree had six points in the quarter, Brendan Bowser hit a 3-ball for three points, and Rhett Andrews had a bucket for two points.  The Yellow Jackets came out strong in the third quarter and even took the lead at 23-22, but Meridian would barely win the third quarter and lead 35-30 with seven minutes to play in the game.  Free throws for the Yellow Jackets were fantastic in the third quarter, as Brendan Bowser was 2-3 and Rhett Andrews was 4-4.  They each added a bucket and Brendan had four points in the quarter and Rhett had six points.  In the fourth quarter, Meridian would expand their lead to as much as 12 points, but the Yellow Jackets didn't give up.  Brendan Bowser had a two-point bucket and a three-ball for five points and Rhett Andrews had a bucket and two free throws for four points.  In the end, Meridian defeated the Yellow Jackets 47-39 to move on to the Elite 8 of SIJHSAA Class S State Tournament.  Scoring for the Yellow Jackets were:  Brendan Bowser with 15 points, Elliott Acree with 12 points, and Rhett Andrews with 12 points.  The boys played an outstanding game.  If we could have grabbed a few more rebounds on the defensive end and put a few more of our layups/short shots in the basket, the outcome could have been different.  In the end, the boys gave it their all and made it exciting and close.  The Yellow Jackets finish the season 13-10 and have won 3 Regional Championships in a row.  Fantastic season!!

Allendale CCSD 17 will be closed on Friday, February 4th, due to the extremely poor road conditions from the snow and ice. There will not be extra-curricular activities on Friday. Concerning the SIJHSAA State Tournament game on Saturday, information will be forthcoming later Friday afternoon. Thank you.

Allendale CCSD 17 will be closed on Thursday, February 3rd, due to the impending inclement weather. Extra-curricular activities will also be canceled. Thank you.